The future of embedded software
Through participation in the MoDES project, Danish SMEs (small and medium-sized enterprises) get access to the newest research within model-driven development. Model-driven development is a development technique in which a model of the final product is created, whereupon researchers/developers make calculations determining whether the product functions the way it is supposed to, already before the manufacturing process is initiated. The technique can be applied to both hardware and software products.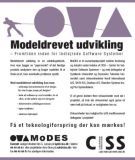 With model-driven development it is possible to:
- determine the consequences of a certain design before spending time actually producing that design
- test a company's software against the model in order to ensure that it behaves as presumed
- document the development process
- heighten the quality of the product
- minimise the margin for error
Rigth now, MoDES works on finding new collaboration partners. If your company works within embedded software and you would like to be at the front where the newest technology
is being developed, then MoDES is the thing for you.
Contact Managing Director Kim G. Larsen at kgl@ciss.dk / phone +45 99 40 88 93 or project leader Arne Skou at ask@ciss.dk / phone +45 99 40 88 51 for further information, or read more at http://www.cs.aau.dk/modes
Business partners can get co-financing for their participation in the project.
MoDES is a collaboration project between research and industry, led by CISS and with participation from The University of Southern Denmark and the Technical University of Denmark in additon to the companies Hardi International A/S, SKOV A/S, Danfoss A/S, Reactive Systems Inc. and PAJ Systemteknik.
Case story:
MAN B&W
The company MAN B&W has collaborated with PhD student John Knudsen, CISS, in order to determine the potentials for using model-based and -generated software in the embedded software of the diesel engines. The focus for the collaboration was determining whether MAN B&W could use model-generated software for controlling the surveillance and control of the company's gigantic diesel engines. Software like taht might enable the company to save both time and money. But these are not the only advantages.
"When working with engines with something like 100,000 HP, it is good to be able to show that the equipment has been properly tested," development engineer Jean Laustsen from MAN B&W explains about the company's reasons for entering into the collaboration. When the company is to sell its products to customers, a model will make it easier for MAN B&W to illustrate their capabilities and the reliability of their products. "A model can explain a lot of things that may be hard to understand when reading a long list of program codes," he continues.
Thus, the models can both be used internally to optimise the production and performance of the engines and externally to provide MAN B&W with better tools for documenting the quality and potentials of their products to customers.